News in the field of smart delivery from the exhibition Parcel & Post Expo 2021 held in Vienna a month ago
The event brought together more than 4,000 experts from more than 100 countries all over the world, 250 companies exhibited their innovations for the parcel delivery industry.
Here are the solutions we liked the most:
1. "Self-driving parcel locker" from the Estonian company Cleveron, which launched a pilot with the Dutch branch of DPD. You can call your parcel via an application to be delivered to you anywhere in the city.


By the way, the vehicles are not completely autonomous, they are remotely monitored by human operators.



2. Solution for sending parcels without stamps by a UK company Stampfree: The payment takes place in the application, and instead of a regular paper stamp, a digital code is generated, which can be written by hand without visiting the post office:




3. Eco-friendly (electric) transport at the stands of several postal operators:


5. The Dutch company Fizyr presented a robotic solution for sorting parcels based on machine vision and deep machine learning. Every year, huge volumes of parcels are not delivered to recipients due to the fact that they are sloppy on sorting conveyors and are simply not recognized by scanners. At the Fizyr stand, it was not possible to place the parcel without it being recognized by the machine.




6. And, of course, new parcel machines - for public use and individual ones presented by the Ukrainian company Modern Expo






Or, for example, the super modern parcel lockers from the American-Slovenian startup

Direct4me , which can be opened from any smartphone using DOV (data-over-voice) technology, even without installing an application.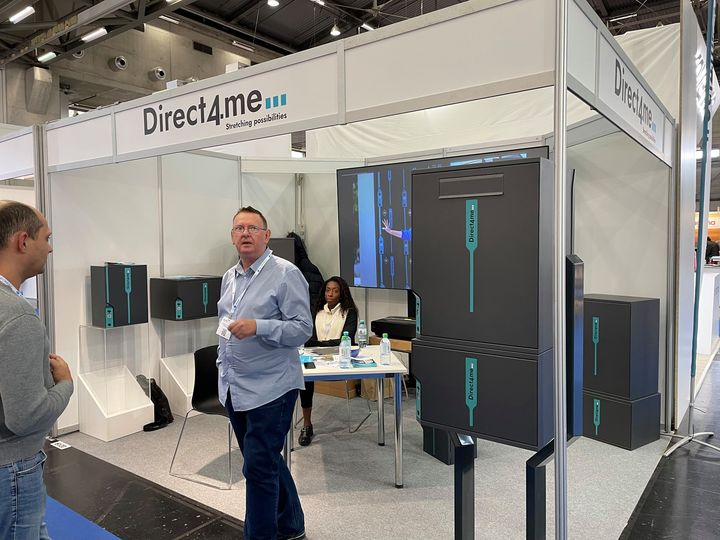 7. And finally the most low-tech solution Nundi from Ivory Coast, which received the prize for the most innovative product in the last mile. The company has created a network without any assets by hiring third-party pick-up points and runners-couriers and combining their services with local logistics players. The result is a fairly economical and inclusive model that allows you to involve ordinary cotdivuarians and save on delivery costs even to the most remote regions of the country.


The next exhibition will take place in 2022 in Frankfurt, Germany and we hope will surprise us with even more innovative solutions in the field of last mile delivery.